How to host a top-tier picnic
As the weather gets warmer, the likelihood of heading out for a picnic increases. A picnic can be held in a variety of ways, some like to head out with just a small bag containing a sandwich, a bag of crisps and maybe some fresh fruit whilst others like to go a little over the top to have an extra aesthetic afternoon with all their closest friends.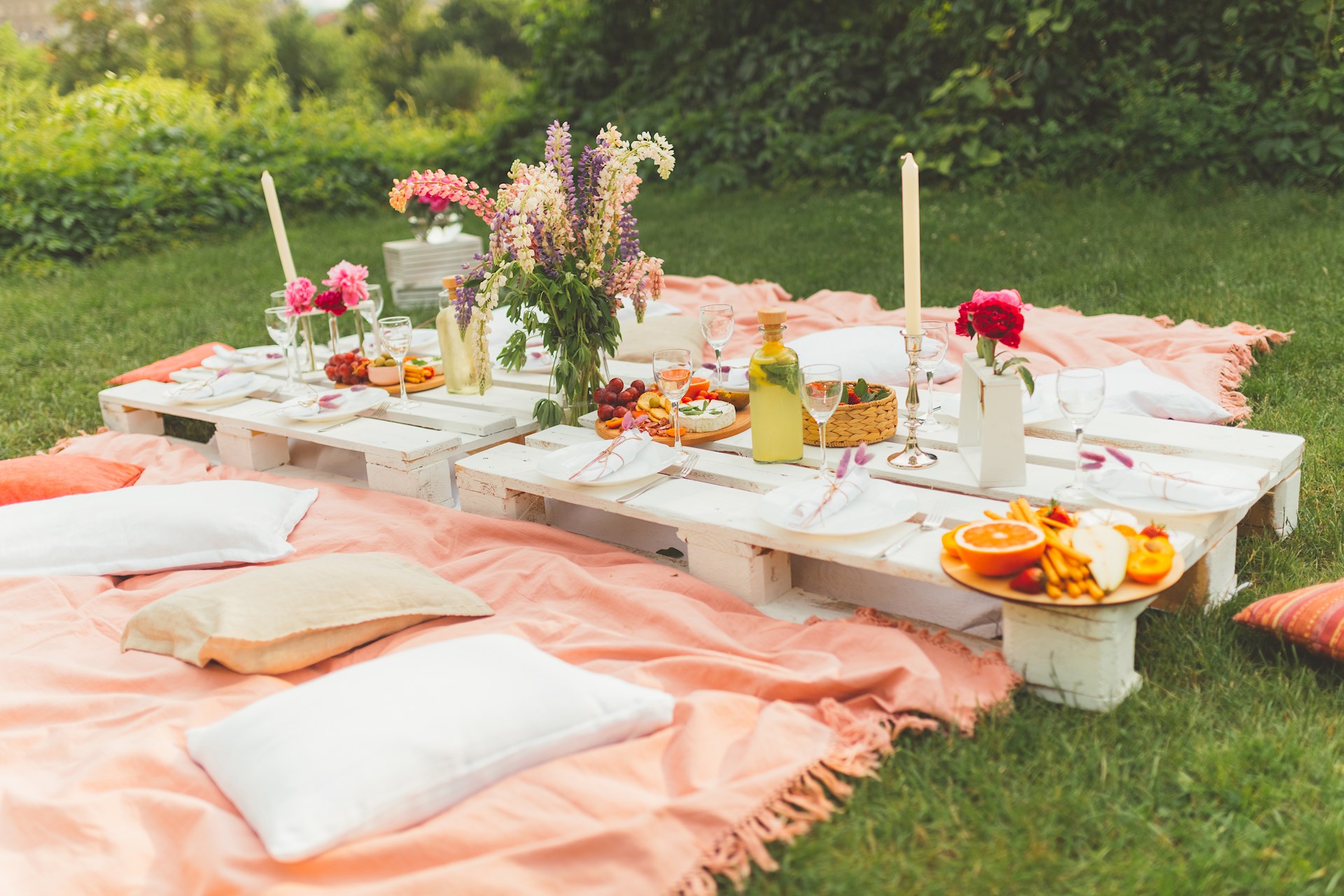 July is National Picnic Month! Why don't you head outside with a few friends and enjoy the sunshine? Here are a few tips for hosting the perfect picnic:

Head online for some inspiration:
Pinterest is aways a good shout when looking for inspiration for absolutely anything. This should give you a few ideas on where you want to host your picnic, the theme and décor you're wanting to go for, and some food and drink options.

Location and time of day:
The location of your picnic is going to be very important to create the best vibes. You'll have to figure out how all your guests are going to get there, ensuring there's space to park nearby, public transport or that it's easy to walk to for all your guests. You'll also need to consider how you're going to get all the food there and if it's possible to keep it all at the right temperature. A few locations which could be good would include the beach, in a field, a back garden, by a river / lake, a forest etc. You may want to consider finding somewhere with a bit of shade too if any of your party is likely going to want to sit in the shade, especially if it's a very warm day! Obviously please make sure the area is safe for all those attending, especially if there are small children present.
Time of day could be important too; a sunset picnic could make for a wholesome time, however that would be done much later in the day during summer as the sun sets usually after 9pm so if you're up for an evening picnic, that would be nice. Or eating at lunch time just before the afternoon sun starts to get too warm could be a good idea too. Or just any time of the day really!

Choice of food and drinks:

There is an unlimited amount of different food options for a picnic depending on diet, but here are 20 classic picnic buffet style foods:

1. Sausage rolls
2. Fruit kebabs
3. Pork pies
4. Couscous
5. Salad
6. Veggie sticks
7. Crisps
8. Sandwiches (cut into triangles)
9. Mini muffins
10. Cheese and crackers
11. Pasta salad
12. Scotch eggs
13. Chicken wings
14. Quiche
15. Cocktail sausages
16. Pizza
17. Chocolate brownies
18. Bruschetta
19. Pastries
20. Spanish Tapas – tortilla de patatas, croquetas, patatas bravas, albondigas, paella, chorizo etc.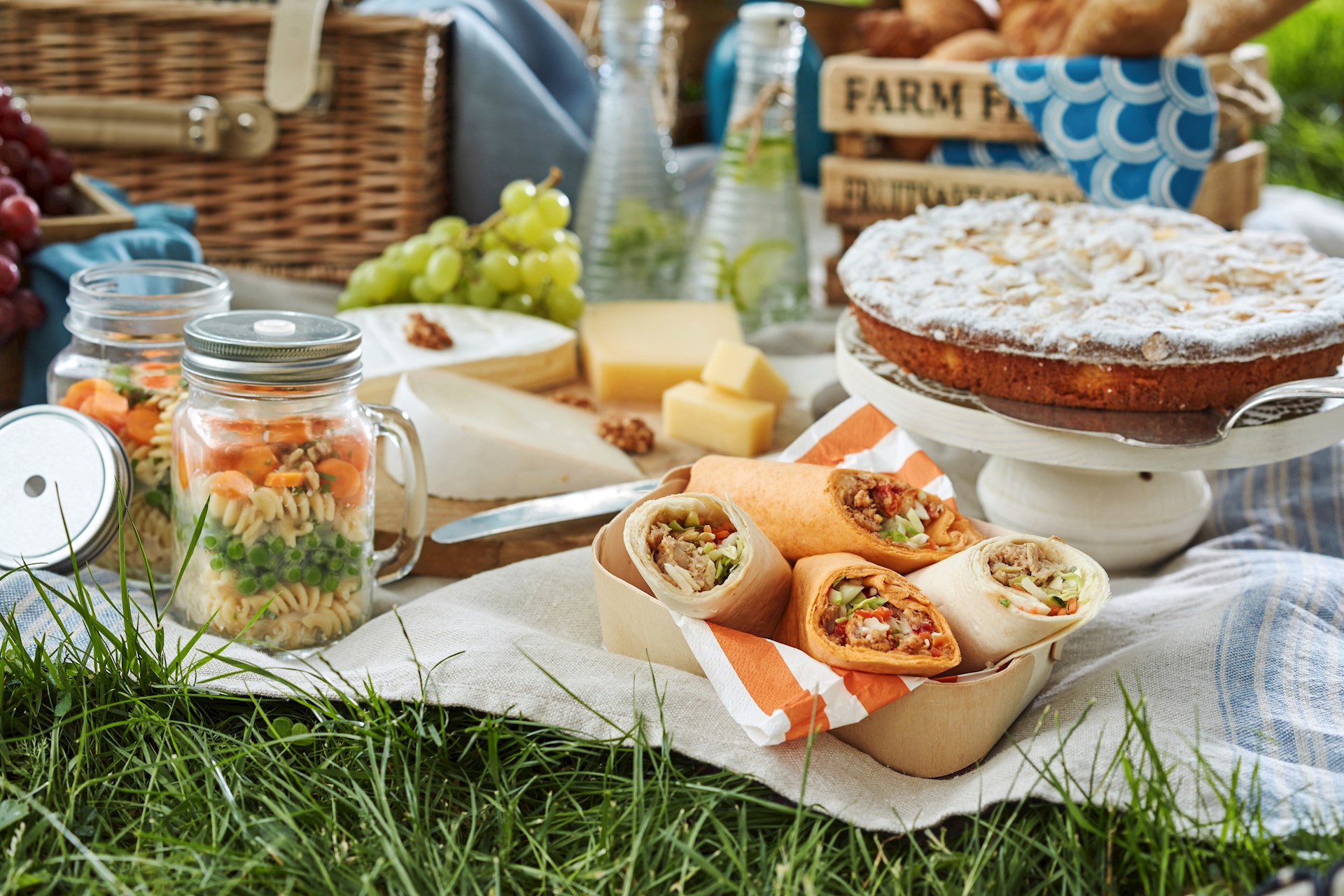 Presentation of the food can be important too. Using a muffin tin is a good way to present fruits, veggies, nuts, crisps dips/sauces etc. Using reusable containers is a good way of transporting foods without having a negative environmental impact.

Décor / comfort:

Nailing a combination of décor and comfort will be key for making your time more enjoyable. Using a picnic blanket that is partially waterproof or putting down a waterproof sheet first will stop any wetness from the ground below from seeping through and ruining the experience. It may also be nice to use cushions to sit on to enhance comfort. On Pinterest the use of wooden pallets is popular to act as a table to put food onto which is a nice idea and adds to the aesthetic too!
A themed picnic could be great fun, dressing up and serving up foods that fit under that theme! Some fun themed décor would work a treat too!