Top five Halloween activities to enjoy at home
Whilst for many, Halloween is a time to get together with friends and family dressed in fun costumes and head out trick-or-treating with the kids. But there is something to be said for a cosy night in. Our list below provides various activities that you can enjoy from the comfort of your own home.
1) Create your own costume(s)
DIY costumes are what make Halloween fun! See what materials or old clothes you can find lying around the house and let your imagination run wild. Your costume(s) doesn't have to be complicated. You could go classic 'bed sheet ghost' and cut up an old bed sheet, or create a simple mask out of foam, glue and whatever recyclable bits you have around the house for a scary Halloween monster.
Get some DIY Halloween mask inspiration here: DIY Halloween masks.
Craft activities are great for all ages and can double up as a pastime to keep the kids occupied. If you think that no one will see your costume you could organise a virtual Halloween party with a best costume competition. It's also a great excuse to get dressed up as there hasn't been many chances this year.
If you're looking for some DIY costume inspiration, sites like Pinterest are great for offering ideas and instructions. If you want to create a spook-tacular makeup look, Instagram is filled with video tutorials showing you how to create a haunting (or glamorous) Halloween look.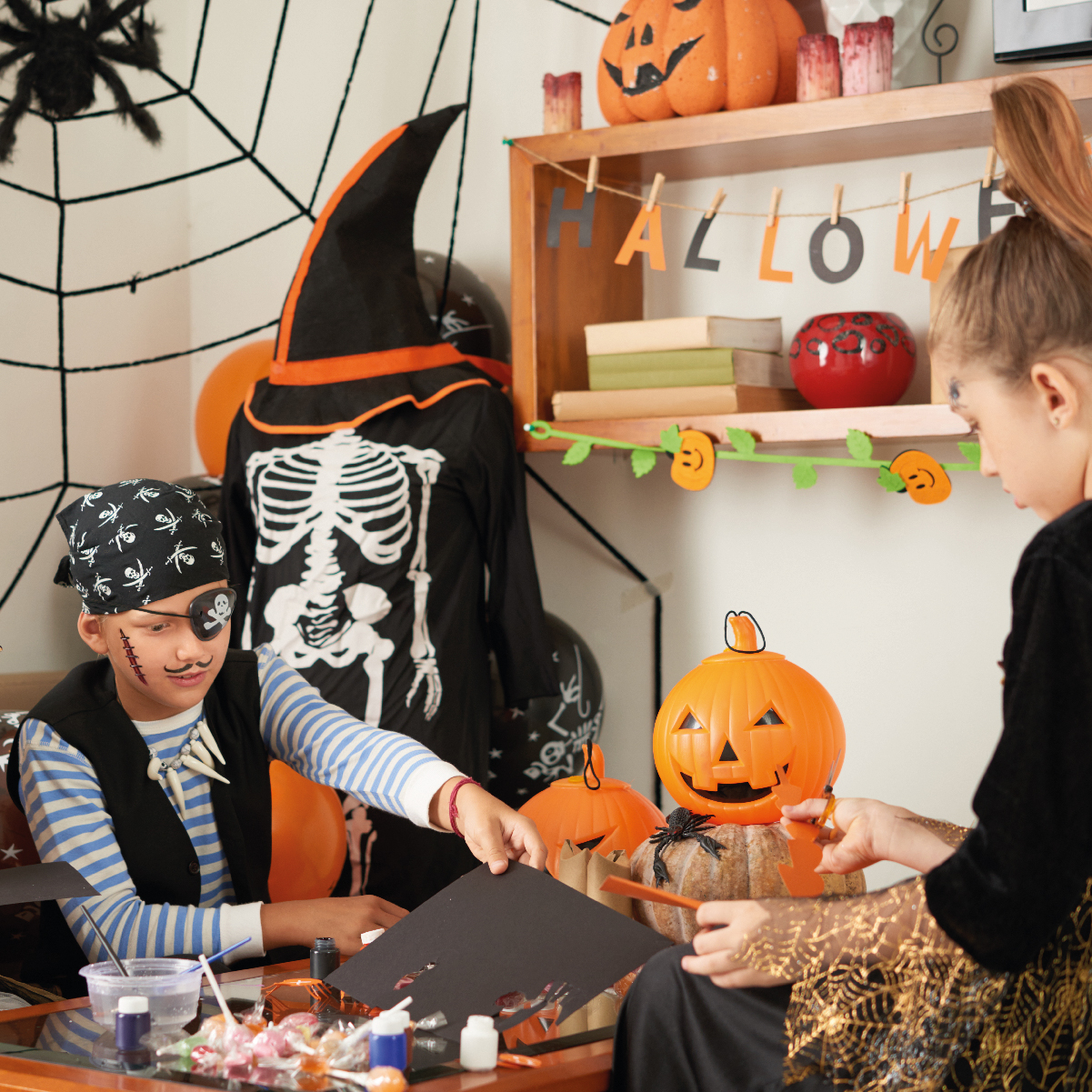 2) Watch horror films
A classic Halloween activity for when you're not in a party mood. There's nothing better than getting cosy on the sofa with a hot chocolate as you watch your favourite spooky films. If you're not a big horror fan, take a look at the thriller genre on streaming services like Netflix or Amazon. There are hundreds of chilling thrillers to watch if you prefer a thought-provoking mystery instead of a heart-stopping scare.
From classics such as Stephen King's Carrie to modern favourites like A Quiet Place, you could spend the whole of Halloween in a horror-movie marathon! If you're looking for more family-friendly Halloween movies, Tim Burton classics such as The Corpse Bride and The Nightmare Before Christmas are favourites for all ages.
If you can't visit your fellow horror film fans to watch movies with, then you can watch them together through Netflix Party or Zoom. These apps allow you to watch your favourite movies with anyone around the world by streaming them at the same time. You're also able to chat between yourselves whilst the movie is playing (you even have the choice to mute others when it gets really good!).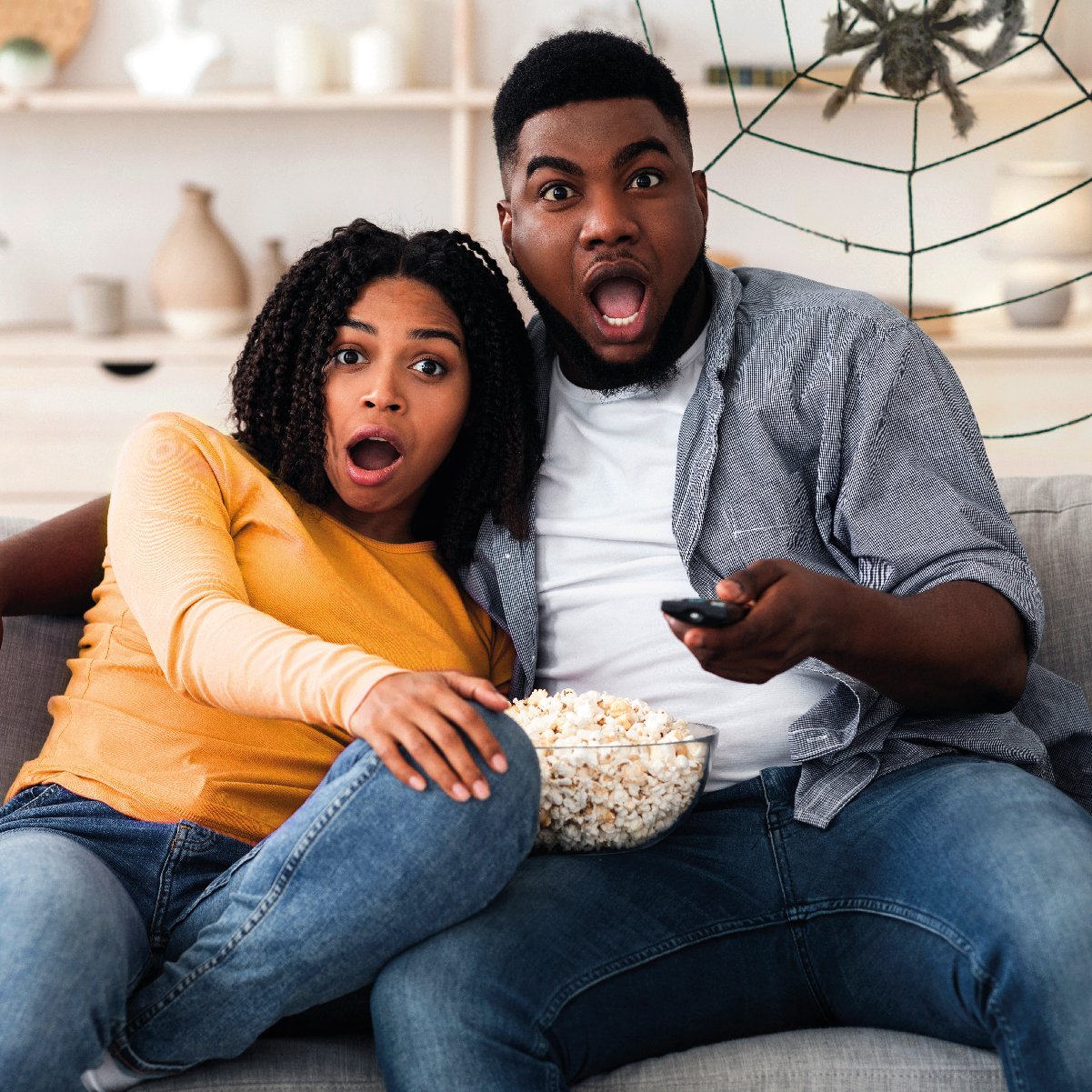 3) Decorate the house
If you're struggling to get into the festive spirit of Halloween, then give your house a spooky makeover. Even if it's just you and your household who will see the decorations, it's still a fun activity that allows you to get creative together with your décor.
For some extra crafty fun, you could make your own decorations. There's classic pumpkin carving. Get some votive candles and arrange your jack-o'-lanterns around the house or on your doorstep. If you want to try something different, you could create 'spider webs' using PVA glue and balloons. Simply cover an inflated balloon with strips of PVA glue and let it dry. Add some toy spiders and hang them from the tree. You can find the instructions for PVA glue spider webs here: DIY spider web décor.
YouTube is full of tutorials that you can follow online if you're in need of inspiration. You could turn this into a competition with the neighbours to see who can create the creepiest haunted house.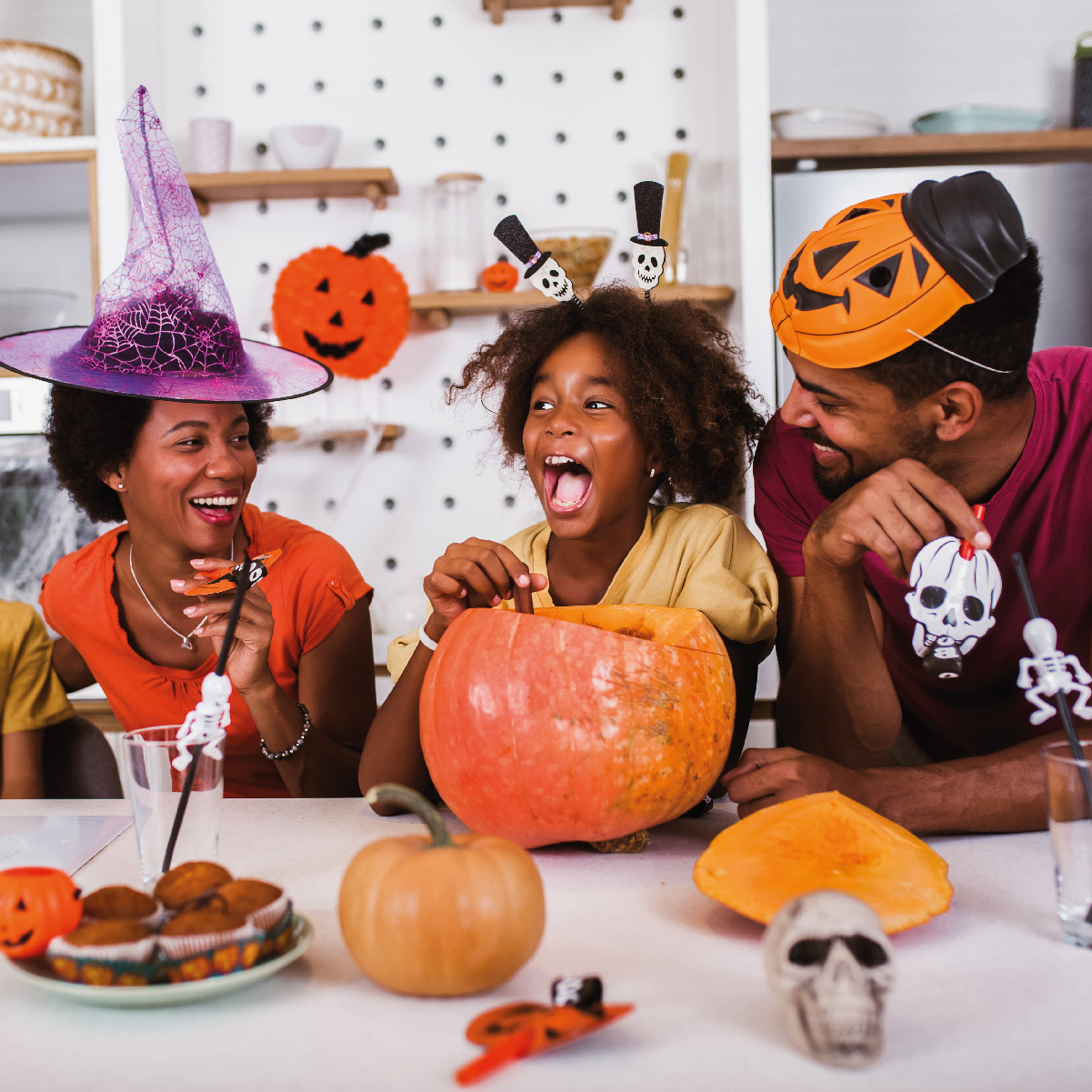 4) Go on a pumpkin trail
Why not try something a little different? The idea is for people to leave pumpkins somewhere visible, in your window or on the doorstep. Passers-by count how many pumpkins they can see over the Halloween weekend.
Not only is this a great activity for all ages, it's also a fun and exciting event for local communities to get involved in. People are encouraged to get dressed up for the trail, so it's a great opportunity to show off your homemade costumes!
If you want to give something back to your community whilst they're on the trail, you could leave some Halloween treats out for them to pick up en-route. You could even put your spooky skills to use for a good cause. Some communities are organising pumpkin and scarecrow trails to fundraise for local schools or groups.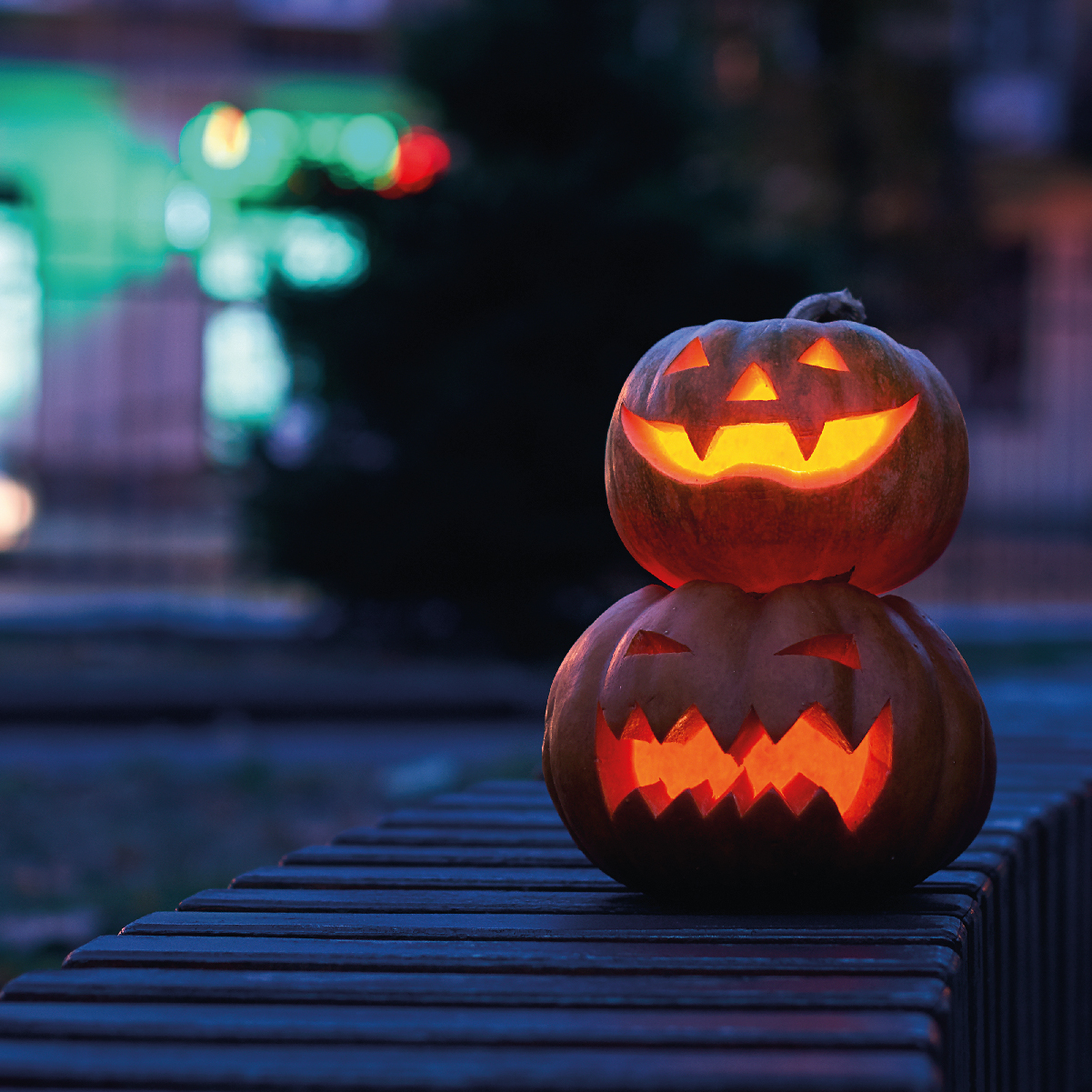 5) Halloween games
If you don't fancy a night out in the chilly autumn air, there are still plenty of fun Halloween games that you could play at home. There's the classic bobbing for apples or you could switch this up a bit and bob for doughnuts instead by attaching them to a piece of string.
Some other Halloween game ideas include Halloween bowling, where you turn your toilet paper rolls (pins) into ghosts by applying stick on facial features. The aim is to knock them down with a pumpkin bowling ball. You could make it even more interesting by offering the winner a prize or giving the loser a forfeit. Here's everything you need for Halloween bowling: Halloween bowling DIY.
You could also host a Halloween themed 'dinner party' with members of your household. Bake some ghost shaped cookies or wrap hot dogs in pastry to make 'mummy dogs'. The BBC Good Food website has just over 60 Halloween recipe ideas for you to choose from. There's recipes aimed at beginners and those who like a bit of a challenge. You can find these scrumptious recipes ideas here: Halloween recipes.
Whether you choose to celebrate Halloween or not this year, it's important to keep the government guidelines in mind and enjoy the night safely. There are plenty of activities that you could participate in from home or at a distance to help you get into the spirit of things.
If you do decide to give any of these activites a go this Halloween, please share with us your plans or pictures of your Halloween decorations, scary costumes or what films were in your movie marathon.
Resources:
https://york.mumbler.co.uk/alternatives-to-trick-or-treating-this-halloween/