Support Dogs 'Pupdate'
We have received some exciting news from Support Dogs!
Meet Marky, the cute puppy with a big future.
Marky, a Labrador/Golden Retriever cross, is the first pooch to be recruited by Support Dogs as part of their new puppy programme, and when he grows up will be trained as a life-changing assistance dog.
But for the next 12 months, the eight-week old pup will be living with his new foster family, semi-retired couple Gary and Joanne Smillie from Woodlands, Doncaster, who applied to the charity to become 'puppy socialisers' earlier this year.
Gary, 52 says: "We've fostered assistance dog puppies before and while it can be stressful at the start it can also be extremely enjoyable - and at the same time we're doing something that's incredibly useful and worthwhile."
"We've never wanted pet dogs; we want dogs that can achieve a goal, and if we can do that and improve someone's life then that's good enough for us."
Support Dogs, whose national training centre is in Sheffield, trains assistance dogs for children with autism and adults with epilepsy and physical disability, enabling them to lead safer, more independent lives.
Marky was sourced from a reputable private breeder by the charity, which is aiming to increase its supply of assistance dogs in the face of rising demand for its services and an ever-increasing waiting list.
In the past the charity has recruited adult dogs from a variety of sources including other charities, rescue centres and unwanted pets. The puppy programme is key because it means that puppies can be raised to have positive experiences and to prevent fears from developing in adult dogs.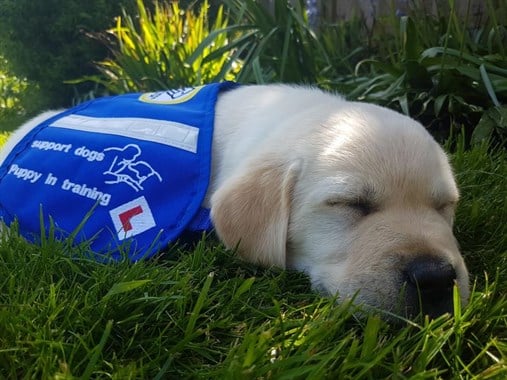 Support Dog Marky
Next month Marky will be joined by another four puppies from private breeders and other charities.
Support Dogs' puppy socialiser, Clare King explains: "The welfare of our puppies is absolutely paramount, so we have made sure that they were raised in the home, rather than kennels, and we've met their parents and checked out their health to make sure the puppies are in tip-top condition and have every chance of succeeding as an assistance dog."
The puppies will be regularly health-checked and monitored, and will attend the Support Dogs' training centre in Brightside, Sheffield for weekly classes for the first eight weeks, then monthly visits.
The charity is now appealing for more volunteer puppy socialisers in the Sheffield and South Yorkshire area who are prepared to look after a puppy for up to 12 months, when its training begins.
Clare says: "Looking after a Support Dog puppy will be enormous fun, but also hard work – and just loving cute puppies is not enough! Potential puppy socialisers have to be prepared to put in lots of hard work, cope with typical puppy behaviour, and be committed to meeting the puppy's physical and mental needs. You'll also get enormous satisfaction of knowing you are helping Support Dogs train the much-needed assistance dogs of the future."
Puppy socialisers must live within an hour's drive of Sheffield, and are expected to be at home for most of the day, in order to dedicate their time to raising and training a puppy.
The Smillies say that although it's early days for Marky he is settling in well and they are already working on the basics of puppy training.
Gary adds:"I'm very impressed with the level of care shown by Support Dogs for their dogs and puppies in training. I like their attitude of 'let puppies be puppies'. We firmly believe that it's an important time to learn but also an important time to play and we want to get the balance right."
If you are interested in becoming a Support Dogs' puppy socialiser contact the charity on 0114 26178090 or email info@supportdogs.org.uk