Our sponsored Sheffield Steeldogs player, Jack Brammer is getting plenty of ice time...
At the beginning of February, Business Development Specialists, Andrew and Curtis got to see our sponsored player Jack Brammer in action. 16-year-old Jack, became part of the Sheffield Steeldogs semi-professional ice hockey team at the start of the season, having graduated from the team's Prospect Programme.
Coach Ben Morgan didn't expect that Jack would get a great deal of playtime with the team, with the plan being that Jack would spend the majority of the season with the Sheffield juniors and the Sheffield Senators.
However, the Steeldogs found themselves entering December with a number of injuries, so Jack became essential to the team so that they would have enough players to compete in games.
Jack quickly established himself as unafraid by the situation or the bigger, older, more experienced players he was up against. 
He played regular shifts, earned assists and on January 5th scored his first senior goal.
Roger Williams, who is part of the Steeldogs Media Team said:
"His confidence has continued to grow, and he now has four goals and three assists and despite the return of injured stars, he remains a regular part of the team."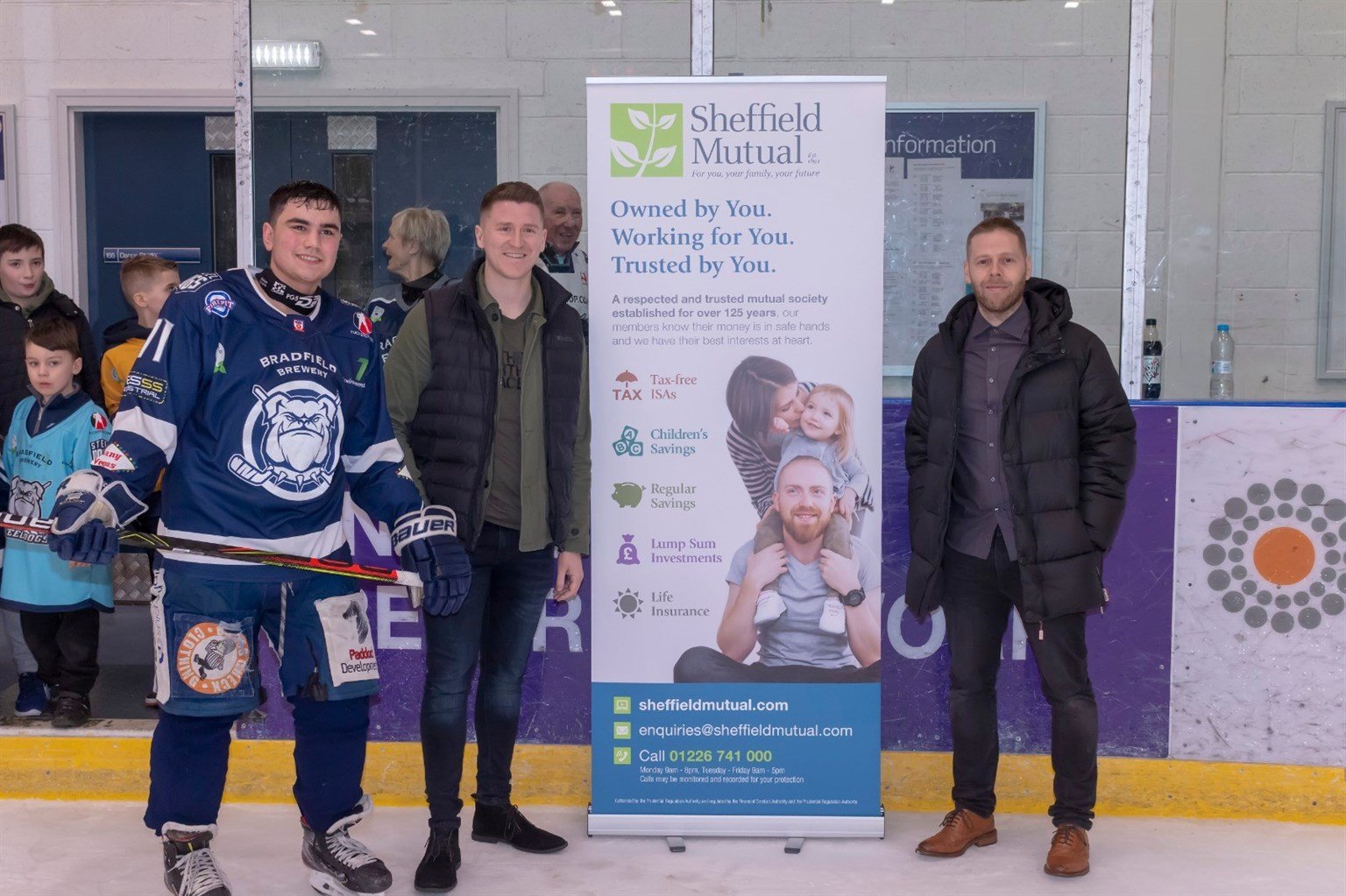 Andrew and Curtis with Jack Brammer
Andrew and Curtis got to see Jack's skills first-hand and watch as the Steeldogs won 4-3 against the Hull Pirates.
Steeldogs Head Coach, Ben Morgan said:
"We are delighted to have secured Jack's services for this season. Jack has been training with the Steeldogs for the past twelve months and has already shown signs of becoming a real prospect in the coming seasons. We are looking forward to working with Jack this season and hope he continues to improve during this initial part in what we are sure will be a long and successful career."
Sheffield Mutual Chief Executive, Jamie Bellamy, said:
"Sheffield Mutual is delighted to be sponsoring talented forward, Jack Brammer, for the new National Ice Hockey League season."
"In line with our history, heritage and ethical values, Sheffield Mutual is committed to helping good causes and sponsoring local teams to benefit the wider community. The work that the Steeldogs do with the schools and community programme reaffirmed our interest and we look forward to keeping a close eye on the team's progress over the season"
A great start in senior hockey for someone who doesn't turn 17 until July!