'One life, live it' we visit Charity Award winners, Weston Park Cancer Charity
'Every two minutes someone in the UK is diagnosed with cancer', this is one of the many shocking statistics surrounding cancer.
That's why the work that Weston Park Cancer Charity does is vital in the fight against cancer.
A Cancer Information and Support Centre sits within the vicinity of the hospital and provides ongoing help and advice to patients and families coping with daily life under very difficult circumstances.
Earlier this week, Dawn and Laura got to visit the charity, and specifically the Support Centre to see where our donation will be utilised.
We were greeted by Deputy Director of Fundraising, Helen Gentle who has worked at Weston Park for ten years.
Helen said:
"I love working for Weston Park. I get to meet so many inspirational people and get to see first-hand how the money is being spent."
Helen went on to talk about a particular patient, Jonathan from Barnsley who was diagnosed in his 20s with a rare form of cancer. Initially, he thought he'd beaten it, but sadly it came back when he was in his 30s and this time it was incurable. Having never ridden a bike before, he came into the charity office and pledged to raise £10,000 for Weston Park by cycling all the way from Lands' End in Cornwall to John O'Groats in Scotland- whilst he was still receiving treatment.
Jonathon knew it was too late for him, but he wanted to help cancer patients in the future. Jonathan was determined to make the most of the time that he had.
Helen said:
"He was incredibly creative and a fantastic photographer, he also set up a photography venture and travelled to some amazing places, capturing some beautiful images - his motto was 'One Life - Live it'."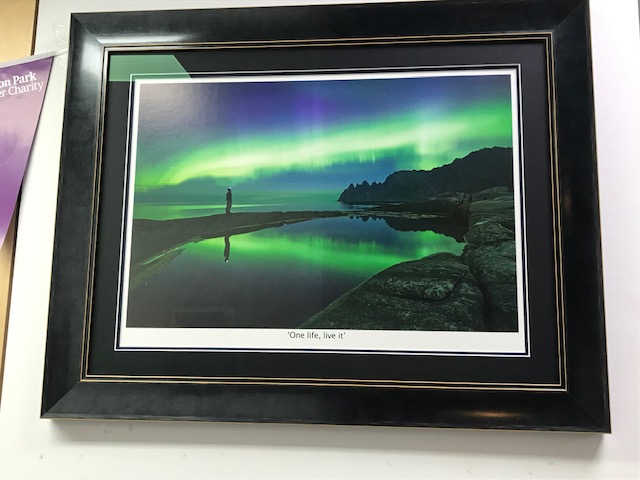 The image of Jonathan, with his motto 'One life - live it'
Sadly, Jonathan passed away last year, aged 38, after raising more than £10,000 for the charity.
"In his memory, we've hung one of his photos in our office - it inspires us every day to keep going with the fundraising and to do everything we can so that in the future, people like Jonathan have the chance they deserve to live long and happy lives."
Arriving at the Support Centre, we were met by Margaret Harrison, the Support Centre Manager. Margaret explained that the centre had recently merged with Weston Park Cancer Charity to help be a stronger support for all.
"The fundraising and the centre were separate until last year, merging the two together has worked out really well and we are hopeful for the future."
The Cancer Information and Support Centre offers a range of services run by healthcare professionals to support anyone affected by cancer; patient, family or friends.
Margaret said:
"Cancer affects people in so many ways and it's not just the patient but family and friends as well. We had a young couple visit the centre recently, the husband had been diagnosed with a terminal brain tumour and they wanted advice on how to tell their two children."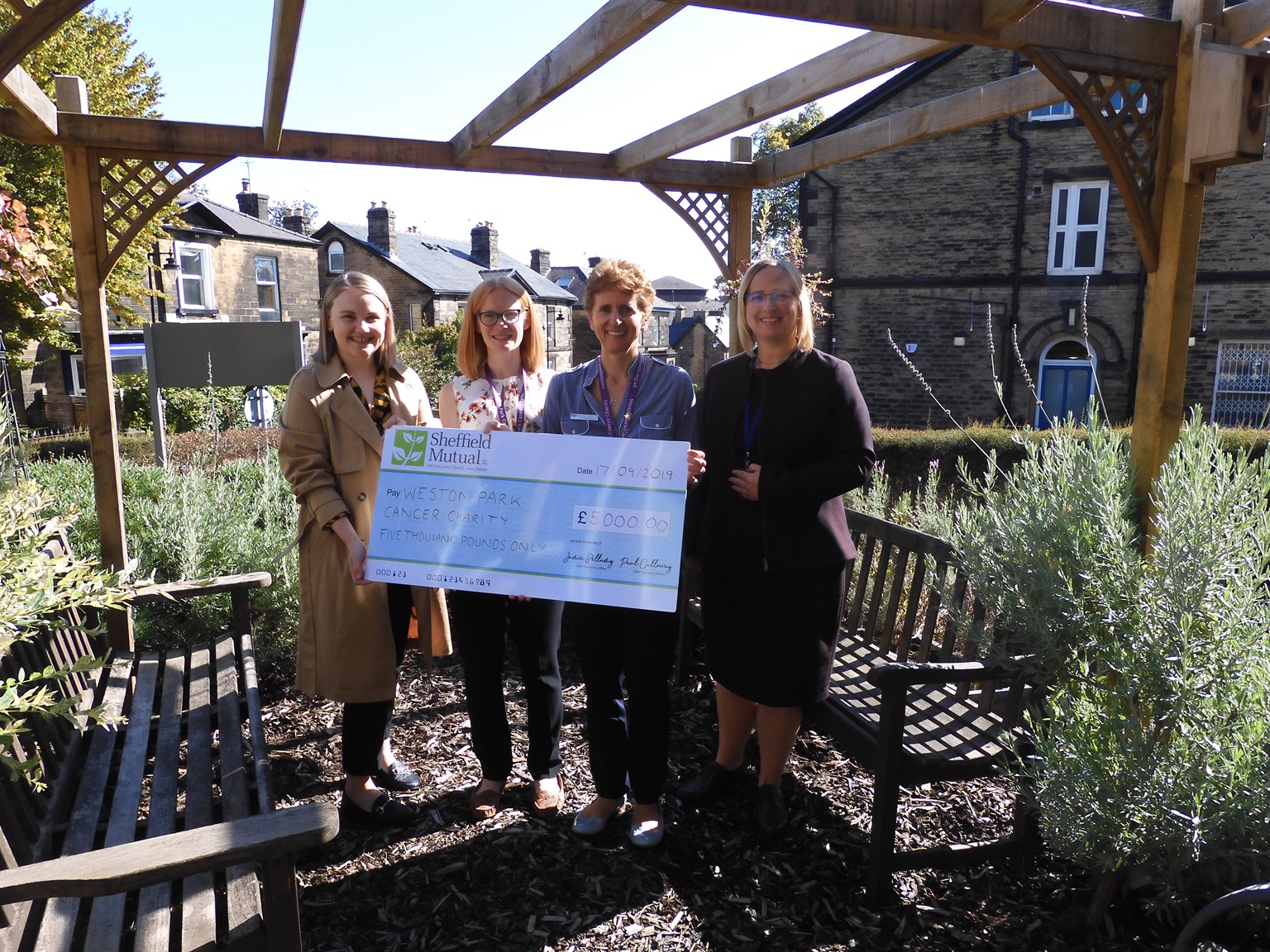 From left to right: Laura, Helen, Margaret and Dawn
The centre provides an array of services including a drop-in service, complimentary therapy sessions, welfare advice, legal advice, coffee mornings, 'Look Good Feel Better' workshops and acupuncture.
"Cancer patients are roughly £500 a month worse off after their diagnosis, many are unaware that they can get help from benefits. We have financial and legal advisers that are on-site to offer advice."
The centre is supported entirely from funding and roughly costs £375,000 a year to run.
Margaret continued:
"The centre is vitally important; patients just want that 'normality', they want to sit and have a chat and escape from their busy lives – the centre provides that."
The centre has been nominated for the Nursing Times Awards 2019.
Margaret, who has been in cancer care for 20 years explained, "it's like the Oscars of the nursing world."
During our time at the centre, a 'Look Good Feel Better' workshop was taking place. Each session is led by trained volunteers and is a chance to meet others in a similar situation, as well as learning useful skills and techniques to manage the side-effects of cancer treatment.
Helen said:
"Our aim is to provide the best possible experience for the patient. I was quite naïve before joining Weston Park. I hadn't thought about the impact a diagnosis has on every other aspect of their life.
We'd like to say a huge thank you to everyone who took the time to vote for Weston Park Cancer Charity and of course to Sheffield Mutual for this really generous sum which will make a big difference to our work."
Interested in helping? Discover the many ways you can help here.