Chester - making a difference to Alex - just by being Chester
We have been a proud supporter of Support Dogs for seven years.
Support Dogs is a registered national charity dedicated to increasing independence and quality of life for people with various medical conditions including autism and epilepsy. They provide, train and support specialist assistance dogs to achieve this.
Over the years, we have supported this worthy cause by sponsoring a dog, sponsoring their graduation ceremonies and even taken part in charity skydives!
We caught up with Danny Anderson from Support Dogs who told us about Alex and his autism assistance dog, Chester.
Autism assistance dog Chester is transforming the world for six-year-old Alex, from the Leeds area.
Mum Anna explains the enormous impact the black Labrador is having on her son's life.
"I am mum to a little boy named Alex who is six years old. Alex is lively, funny, sweet, cheeky and clever and happens to have been diagnosed with autism at the age of two. 
Most people will have heard of autism but may not know exactly what that means (I certainly didn't until Alex was diagnosed, and still continue to learn on a daily basis). Autism affects people in lots of different ways but one thing for sure is that those on the spectrum see the world in a very unique and innocent way.
For Alex, autism means that he is deemed non-verbal, he suffers with extreme anxiety, development delay and sensory processing disorder. In short, it means that Alex can struggle extensively with everyday situations which most of us would think nothing of…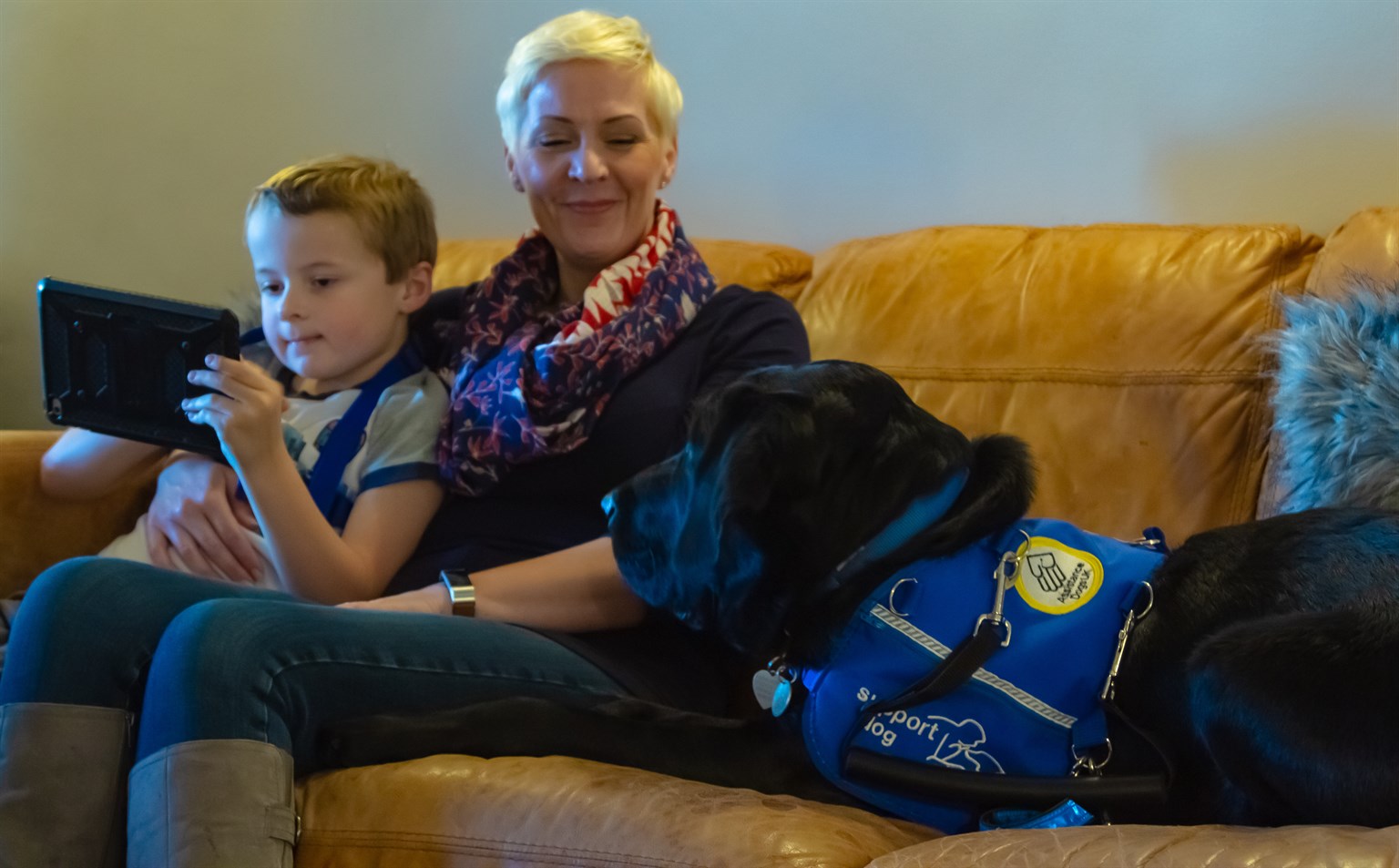 Alex, Chester and mum, Anna
Things like going to the supermarket, going to the park, a party, the cinema or a restaurant can be terrifying ordeals. It also means he simply cannot make sense of social interactions; he can't read a facial expression or take a cue from a tone of voice. These aspects of autism can make life lonely for the person affected and for those who care for them, as making friends is incredibly difficult. As a parent, you deal with the looks and the comments from strangers saying what a terrible parent you are and what a badly-behaved child you have.
Alex also has NO sense of danger. He doesn't understand the reason why he can't run in to a road with moving traffic, jump in to a fast moving river or lay down and look over the edge of a railway platform…in fact movement of any kind is highly motivational for Alex and so he is actually drawn to such dangers. As a two-year-old it was easily resolved, and we could simply swoop him up, pop him in to his pushchair or in the seat of a shopping trolley etc., but as Alex was growing in to a very fit and very strong boy, it became increasingly difficult for me to keep him safe and so life became scary, reclusive and lonely.
Enter Support Dogs…
We came across Support Dogs in 2016 and were lucky enough to be invited on an information day to find out more. I completed an application form, an assessment, we had home visits (including some adorable dogs) and we could quickly see that Alex was going to respond well to having a furry companion. We waited for a match and then we had training for Chester, Alex and myself.
Since Chester was placed with us in September 2017, he has helped Alex, and our family, in two distinct ways.
Firstly, he is of course, a service dog specifically and incredibly trained to help Alex when he is out of the house, in familiar and unfamiliar places. Chester comforts Alex, keeps him safe, gives Alex a sense of security and an undeniable sense of confidence. Alex doesn't just tolerate being tethered to Chester; he loves it. When the harness goes on, we see an instant change in Alex's body language as if to say: "We've got this!".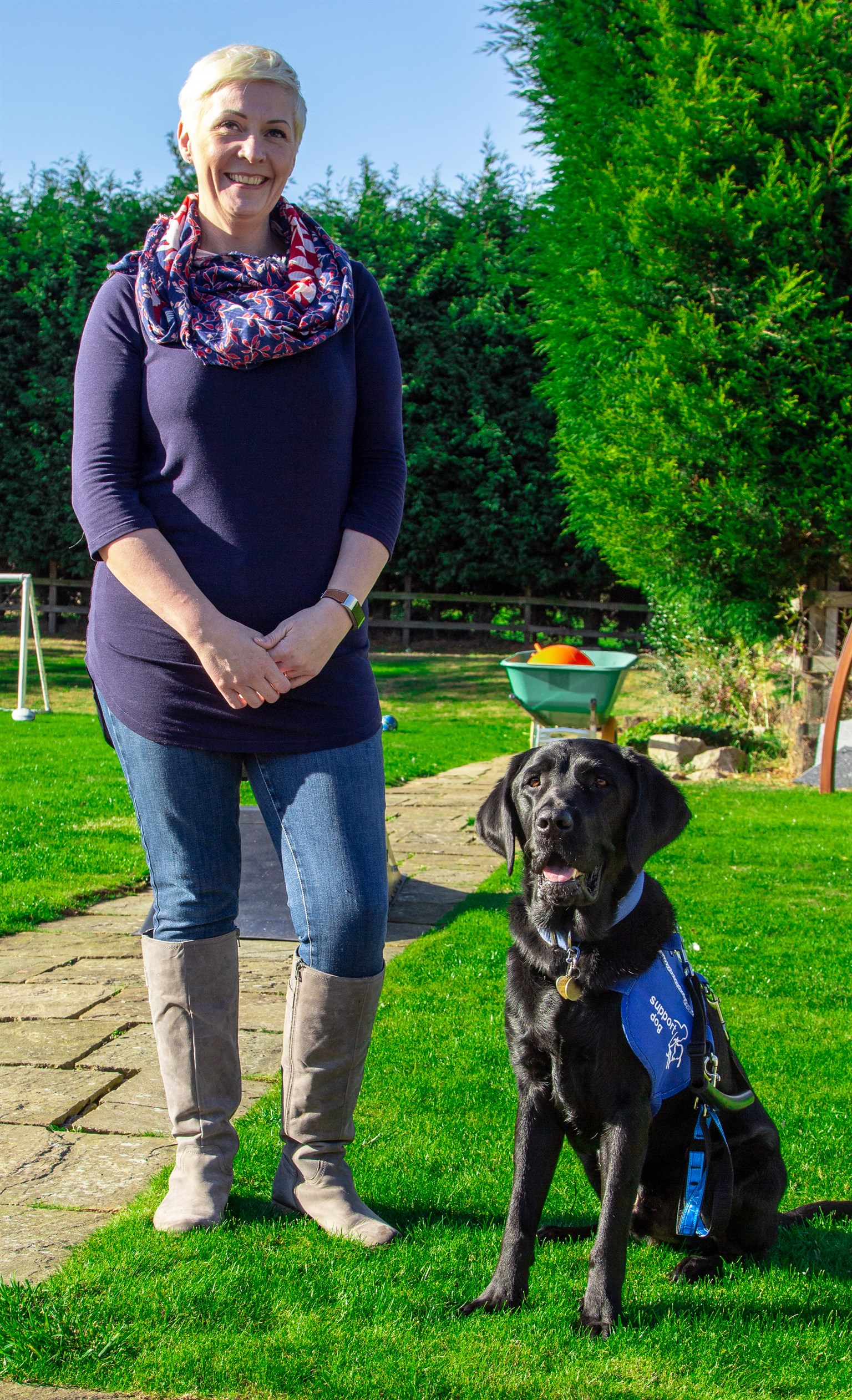 Chester brings a sense of calm to every situation which in turn gives us all, but especially Alex, an opportunity to enjoy the moment, knowing that Chester will keep him safe from harm.
Chester has opened up our world and of course, most importantly, Alex's world. Places that had previously 'spooked' Alex are now accessible. A perfect example of this was Thomas Land. Alex is Thomas the Tank Engine mad but after numerous, unsuccessful visits to Thomas Land, we made a visit to see Santa during Christmas 2015.  Alex ran in, so excited, then stopped, the blood drained from his face, his hands went over his ears, he cried out and he ran to the exit in an inconsolable state. We attempted to go subsequently with no joy, Alex simply couldn't get through the gate however much he wanted to, and so we gave our tickets away and went home. Fast forward to Christmas 2017, with Alex tethered to Chester, Alex stopped at the gate, took hold of Chester's handle, and slowly moved forward… he was back in one of his favourite places with his buddy to keep him safe. We had the most perfect day. That was the first time that we had really clear evidence that Chester was making a difference.
We are no longer subjected to negative comments. People look at us and smile and on occasion ask if they can say hello and ask about what Chester does for Alex and our family. He has turned social interaction around for us all, he draws such positive attention and has opened a narrative for Support Dogs and for autism.
Chester is more than a service dog however; he is a friend and a member of our family, with his own beautiful personality that doesn't differ hugely from Alex. They both love treats, being outdoors, cuddles, tickles and sitting in the most inappropriate places they can find. His very presence helps to destress difficult situations and he's always there to provide a welcome distraction when he hears Alex becoming distressed or frustrated due to his difficulty with communication.
Chester has literally changed our lives for the better.
We will be forever grateful to Support Dogs for providing and training these life-changing animals."
It costs around £20,000 to provide and train a support dog. Find out how you can help here: https://www.supportdogs.org.uk/
Sheffield Mutual will be sponsoring Support Dog's 'Puppy Parade' and annual graduation ceremony in November.