2018 Charity Award - 3rd place Sheffield Royal Society for the blind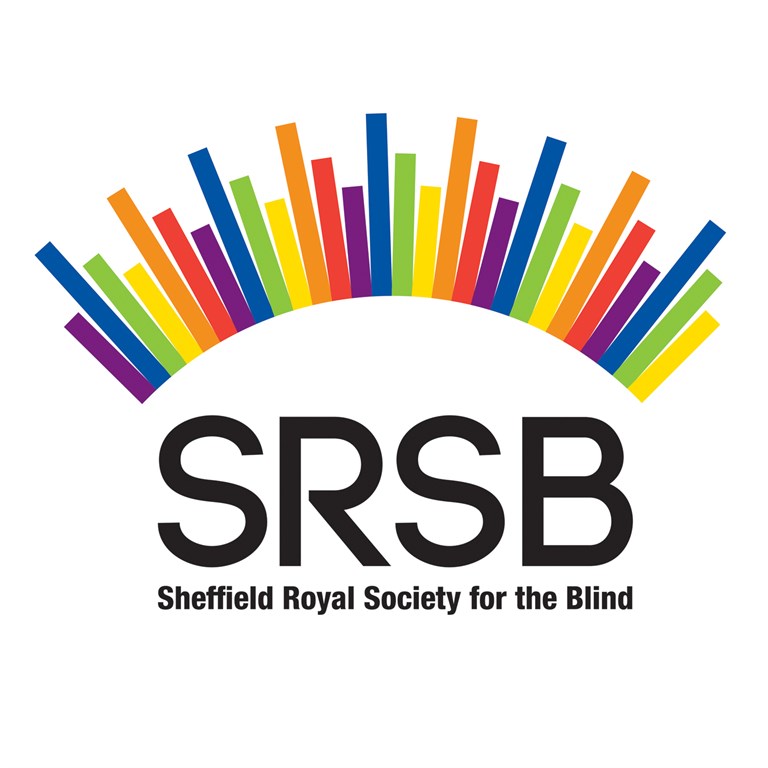 Sheffield Royal Society for the Blind came 3rd in our 2018 Charity Award earlier this year.  Having visited Rotherham Sight and Sound a few months back, Dawn and I also had the opportunity to go along to SRSBs centre on Mappin Street in Sheffield to see for ourselves the excellent service the staff and volunteers provide.  We were warmly greeted in the purpose built centre by the lovely smell of home cooked food and drinks in the large café area where blind and visually impaired clients can take their family and friends, or meet up with other clients of SRSB.  
Every part of the building is aimed at making things easier for Visually Impaired and Blind people.  The floor is carpeted and has a contrasting coloured 'path' to help guide a person into the different activity or meeting rooms.  Along the wall there is an easy grip hand rail which also has various raised bumps to indicate doors or turns in a corridor along with the exit route.
There are many different activities take place in the activity rooms and whilst we were there was a knitting group and a group of gentlemen having a quite competitive game of dominoes taking place. Clients have access to talking books and news, which can be posted to their home, there is IT training available and even a health and beauty room.  
We really enjoyed our tour of the building and spending some time here.  It is a lovely, friendly centre and the staff and volunteers obviously enjoy making a huge difference to the lives of the 300 plus clients who use these facilities.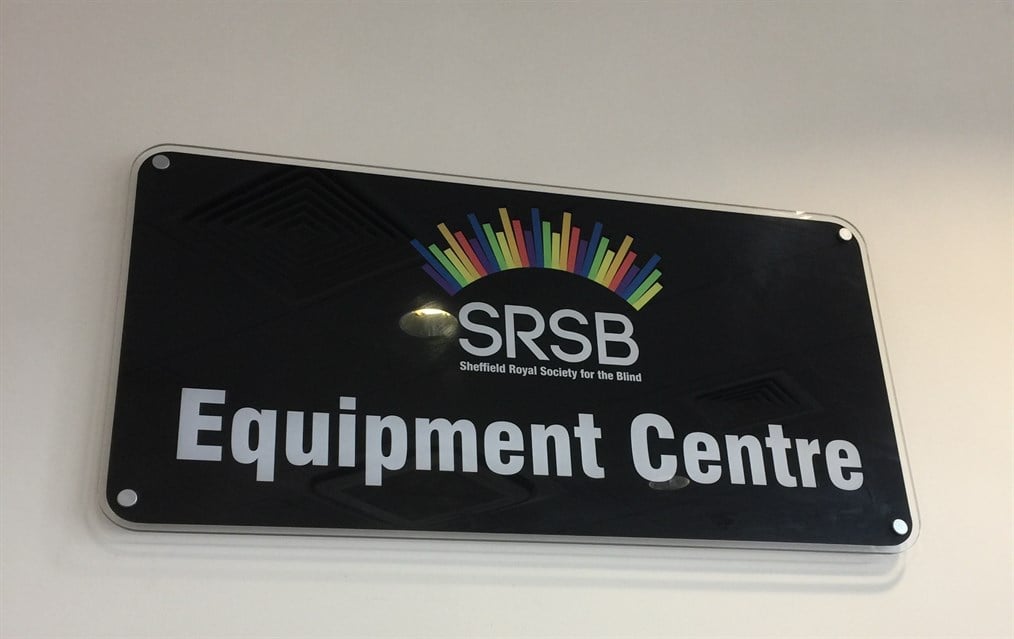 There was also an Equipment Centre which gives people access to the most innovative of things... Items that you would not normally think about... There was a gadget which told you what colour things are, by simply holding the gadget to say an item of clothing, it would tell you what colour it was. Really useful for those who are colourblind or for those who are visually impaired want to put together a colour coordinated outfit. There are special pens, clocks, phones and lights. Another amazing piece of equipment was a labelling system. With this, you can add a small label to an item and give it a name using a small electronic device, you can then identify the item with the device by putting it close to the label and the machine will tell you what it is. Whilst you can buy things from the equipment centre, you also have the opportunity to test them out beforehand and get some advice.
Whilst we were there we met Steve Hambleton the General Manager and another of their volunteers called Mary. It is clear that people go above and beyond for SRSB and it was great to hear all the different things Mary has done to raise money for the charity. Mary and her husband even helped with the fundraising on their wedding day! They asked their guests for donations for SRSB rather than gifts, they also spent their wedding anniversary vounteering. It is clear that this is a charity very close to peoples hearts.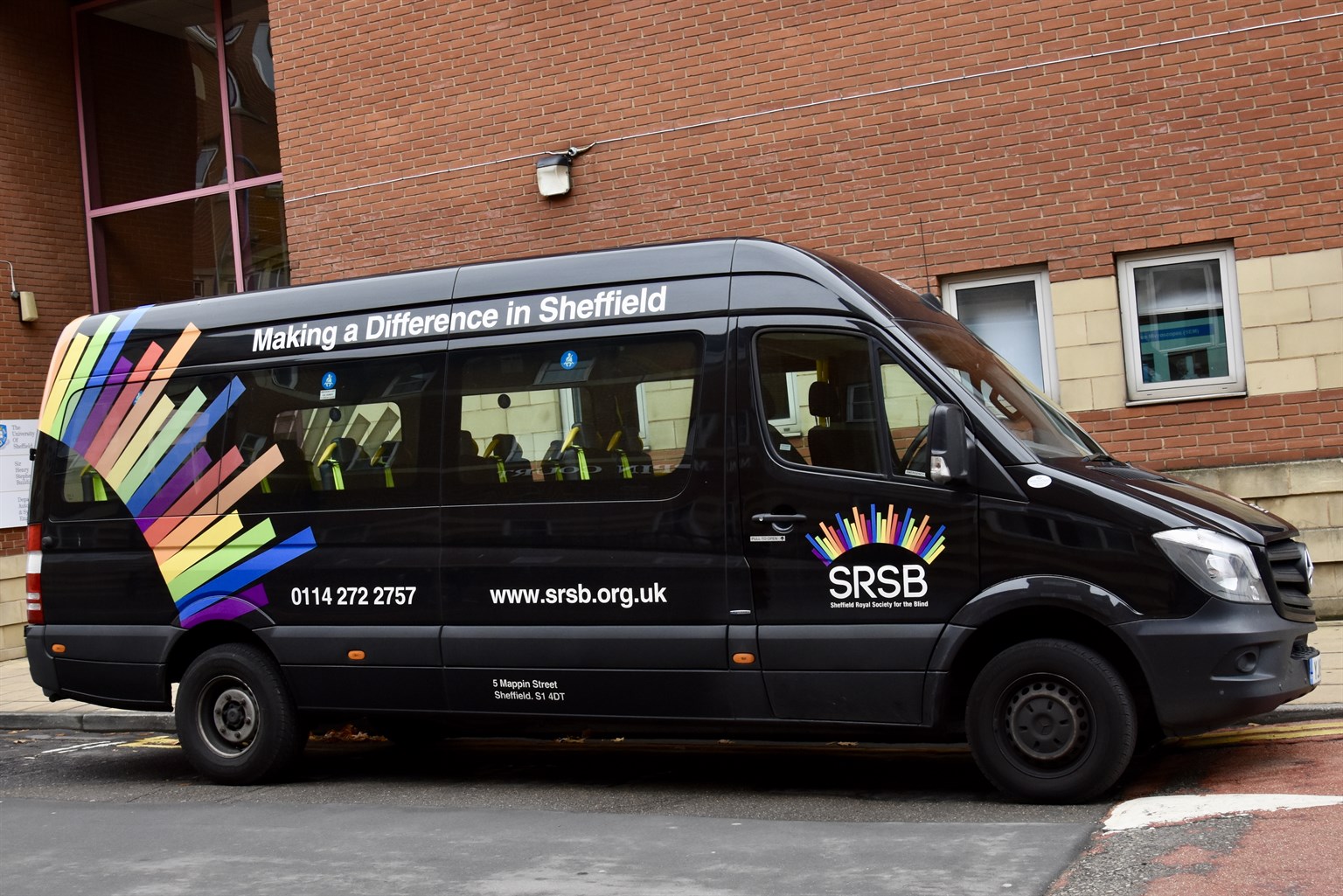 Steve Waller, one of the volunteers, Sue Hill and Sue Coggin were pleased to tell us that our £1,000.00 donation would contribute towards a brand new mini bus which will be used at Rotherham Sight and Sound to collect clients from their home and take them to the centre and on various excursions.  This transport is much need as Visually Impaired and Blind people are often apprehensive of using public transport and can often feel scared to go out becoming very isolated in their homes.  Steve had the pleasure of telling us that this donation means that the minibus can go ahead and that the minibus is currently being specially adapted with things like bright contrasting colours on the safety belts, wider aisle to make getting around easier and  hand rails to make getting on and off the bus safer and more independently as visually impaired people are able to pick out the change in colour and manage on their own, which can be a huge confidence boost.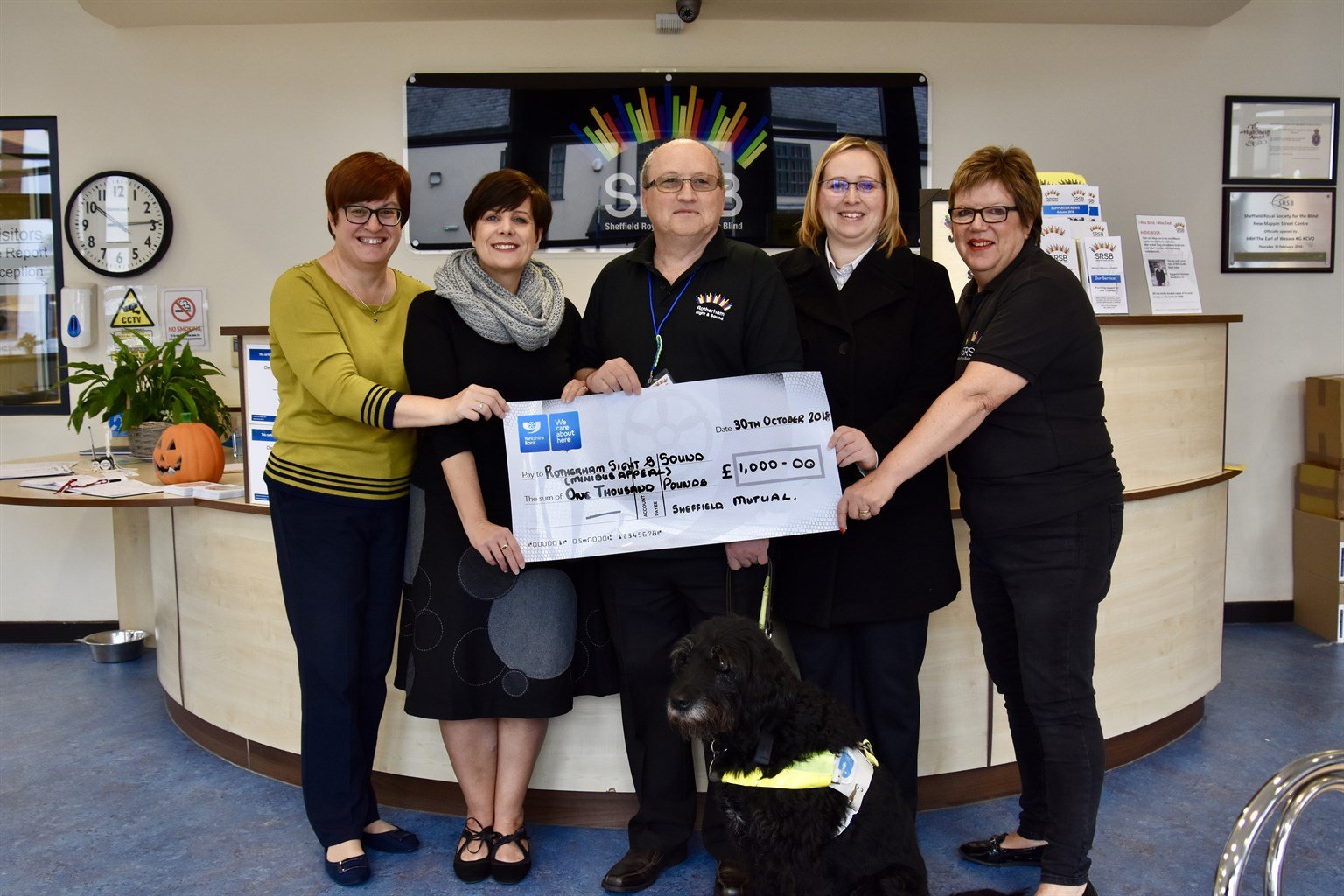 Dawn and Debra (SMFS) handing the cheque over to Steve Waller (Volunteer), Sue Hill (RSS Activities Co-ordinator), Sue Coggin (RSS & SRSB Fundraising Manager)
There are lots of wasy you can get involved with SRSB and Rotherham Sight & Sound, the best place to start is their website.


Visit the SRSB website to find out more...