Judith's second rescue dog turns hero hound
Judith Margolis is giving another rescue dog a second chance to be a hero hound.
Five years ago, Judith, from St Neots, adopted Alfie a rescue dog from Wood Green Animal Shelter near Cambridge, and who was trained by charity Support Dogs to make a massive difference to her life.
The former Open University lecturer had to retire early after developing a progressive neurological condition called Cerebellar Ataxia, which affects coordination and speech and by 2006 had left her in a wheelchair.
The pair formed a great partnership, with Alfie giving Judith back the confidence she had lost. The Lhasa Apso gave Judith the motivation and strength to start living again, and Alfie had a second chance at a loving family.
Now Judith is having a second shot at giving an unwanted dog another chance. Sadly, after seven devoted years, Alfie had to retire from active service early as he started to go blind, although he continues to live with Judith as her much-loved pet.
This time, Support Dogs sourced a replacement dog from rehoming charity Blue Cross, and Judith and her new disability assistance dog Fudge, a Border Terrier/Pug cross, have now qualified as a new partnership.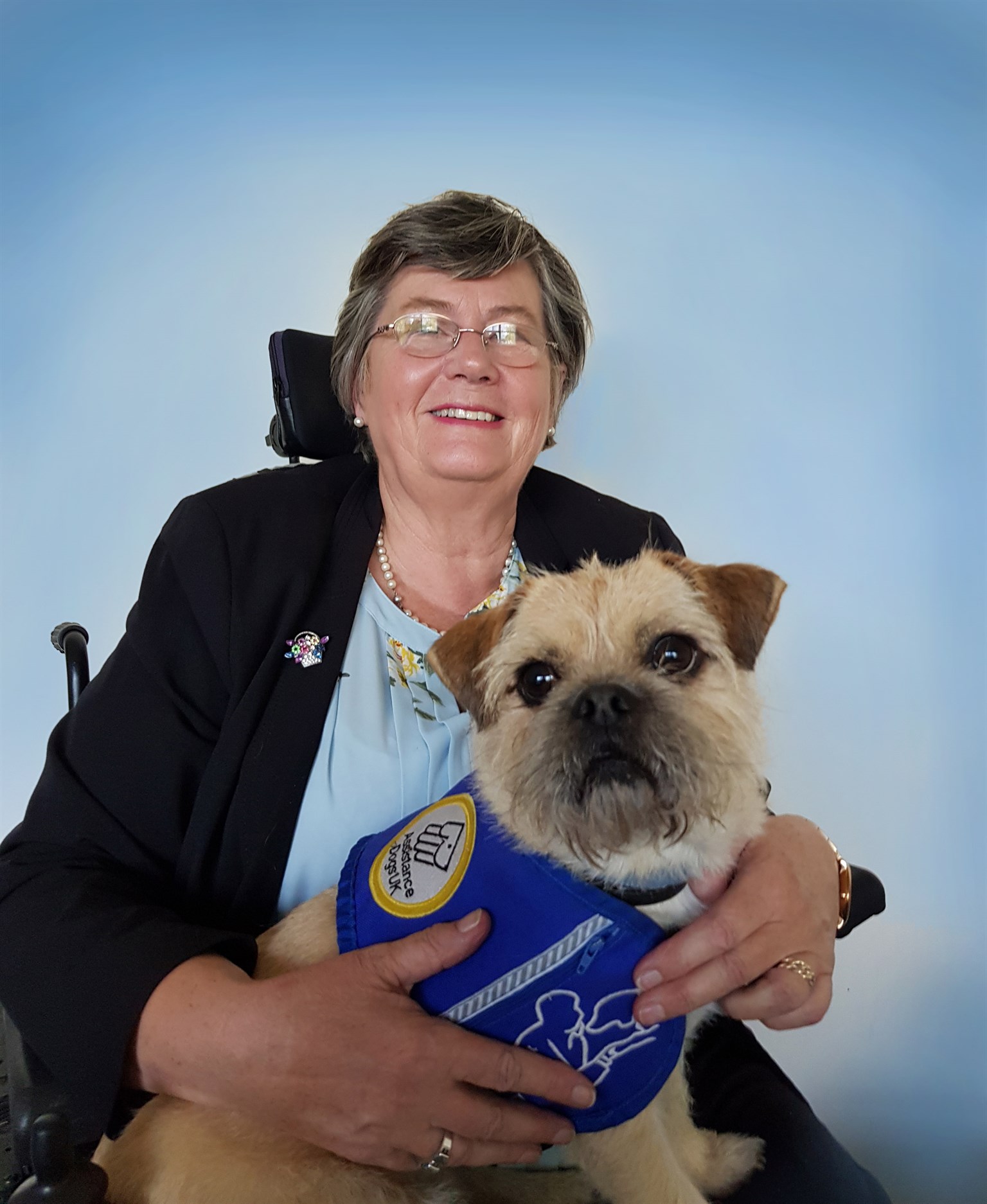 Judith and Fudge
Fudge came to Blue Cross animal rehoming centre in Thirsk when he was 14 months old. His owners could no longer care for him and he needed a special home that could accommodate his need for mental stimulation and being busy.
"Fudge is completely different from Alfie," says Judith, "he's far more enthusiastic, is very good outdoors and has a fantastic recall. He brings me my slippers, helps with undressing, opens doors and picks things up. He is also a wonderful pain killer; at night he sits on my legs and his warmth and pressure help so much with my leg pain that I have been able to come off one of my painkillers. They were making my head fuzzy and it's great to think clearly again."
She continued:
"He is the most loving, adorable dog I have ever had. He sits on my lap all the time and loves to be stroked. I've had lots of dogs in the past but never had one quite like Fudge."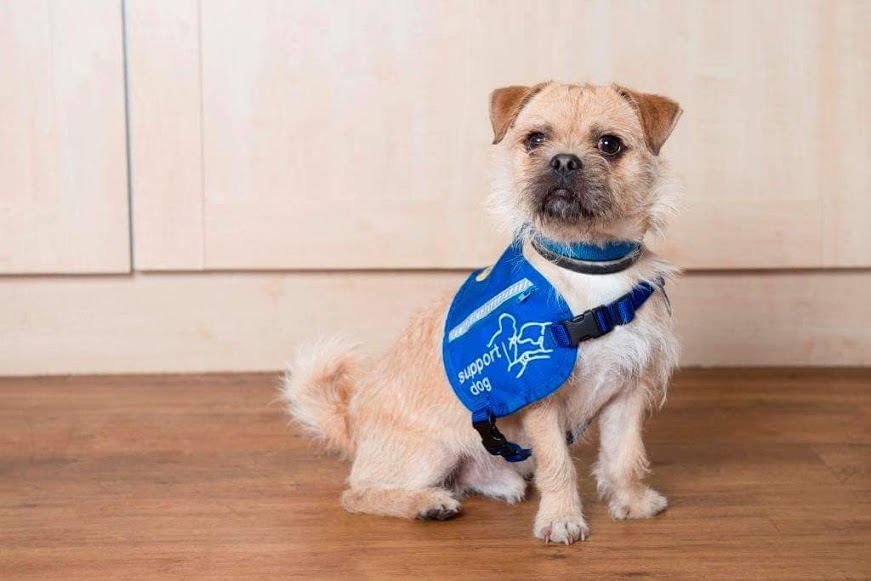 Alfie has now become accustomed to sharing the house with a young pretender. "They didn't get on at first, then Fudge wanted to play but because Alfie is blind, he couldn't see his body language," says Judith, "now they co-exist happily together in their own little bubble!"
Judith is able to drive a specially adapted car and although she can no longer work, she keeps active, describing herself as a 'serial volunteer'. She's a support worker for the local MS Society branch, and is chairman of Disability Cambridge, going into the office twice a week with Fudge, who's become a big favourite with colleagues.
"Support Dogs have changed my life," she says, "without a dog, I wouldn't be able to go anywhere. It's great that Fudge can help me around the house but more than that, is the fact that he enables me to go anywhere."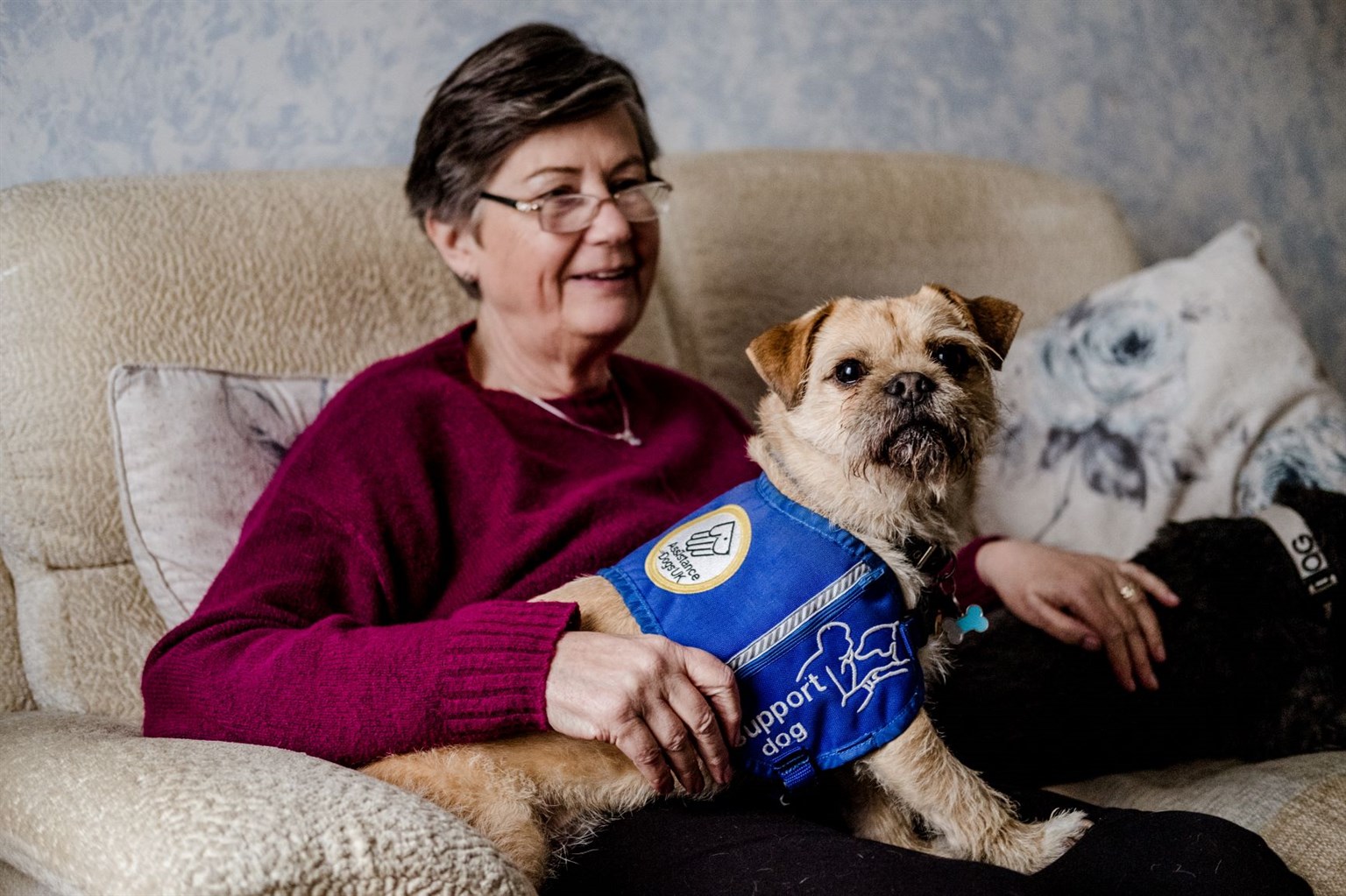 "I used to lecture in front of 300 students, but the illness knocked the confidence out of me. Having a dog has reversed that. I'm no longer invisible. When you're in a wheelchair people don't talk to you. But when you have a dog, people stop and chat. Especially when it's a cute little thing like Fudge!"
Rachael Myers, Training and Behaviour Coordinator at Blue Cross in Thirsk said:  "We could see Fudge was a highly intelligent dog who needed jobs to do. We felt he would be best placed in a working home so that he would not get frustrated or bored. He was such a fun character and loved by everyone during his time here at Blue Cross. We are delighted that he is now happy in a new home where his busy nature is being put to such good use."
Danny Anderson, Fundraising Manager at Support Dogs, said: "We work with a variety of dogs, including those from rescue centres, or unwanted pets. We don't have our own breeding programme and love being able to give an amazing dog a second chance and transform them into a lifesaver. Seeing the journey of a dog that was unwanted to being able to make such a positive impact on someone's life is very special."