Ann's life-saving canines
As an avid supporter of Support Dogs, we are always happy to hear stories about the amazing assistance dogs and their owners.
Support Dogs often refer to their assistance dogs as 'life-transforming' but for Ann Watson, her three epilepsy seizure alert dogs have been literally lifesaving.
Prior to getting an assistance dog, Ann, now 60, had numerous seizures every day.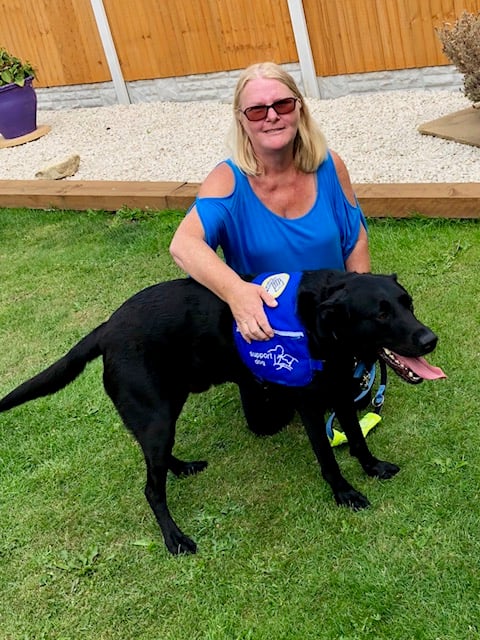 Ann and Barney
She often fell down the stairs or fell and banged her head on the radiator and on one occasion when crossing the road to catch a bus she had a seizure and collapsed in the middle of the road, causing a multi-car pile-up. From that day on, Ann was terrified of leaving the house alone.
Life is now very different, and Ann says she owes her life to her three seizure alert dogs provided and trained by Support Dogs over the past 20 years.
First Shadow, a border collie originally from a rescue centre, Victor a black Labrador stray taken in by council dog wardens before being passed on to the charity, and now Barney, another black Labrador.
Ann said:
"I would not be here without Shadow – he saved me many times from falling down the stairs. Since I've had my dogs, I have never been hurt or had an injury from a seizure. That's why Support Dogs mean so much to me. They have saved my life. I don't know where I'd be without them."
Ann fell and banged her head whilst out playing at the age of seven and went on to develop severe epilepsy. As she grew up, her problems worsened, and Ann struggled to stay in employment. She kept the epilepsy secret from her husband Peter when she first met him, but soon had to explain to him about her condition.
It was her husband who saw a TV programme about Support Dogs and suggested applying for a seizure alert dog. The result was a long and successful partnership with Shadow – Ann's seizures reduced, and her nerves and stress levels became manageable.
Shadow was eventually replaced by Victor, Ann said:
"I doted on Victor, partly because he alerted me to a seizure on day one – he was the only dog to do that."
Ann and Peter moved down to South Yorkshire from Scotland to be closer to Support Dogs' training centre in Sheffield, and again Ann and her second dog enjoyed a long and happy relationship. Victor retired aged ten last year and now lives with senior Support Dogs instructor Tracey, who adores him.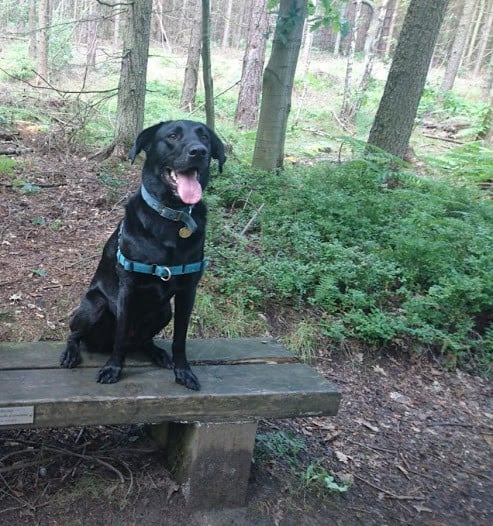 Enter Barney, Ann said:
"I missed Victor very much but again, Barney is completely different," explains Ann. "He is like no other dog I have known and gives me a 21-minute alert of an oncoming seizure. I can get out and about, jump on the bus and go into town; I'm not worried about going out on my own with Barney. He has never been wrong."
Ann still gets anxious and has panic attacks when she's with large numbers of people but is reassured that for the next eight or nine years she and Barney will be an effective partnership.
Ann continued:
"It's not just the alert itself, it's the emotional confidence knowing that you are going to be alerted that makes the difference. It's hard to describe the feeling that having one of these dogs gives you."
Ann concluded:
"If it wasn't for Support Dogs, I would be house-bound. They are a great charity and I love them – Barney is my life and I am his."
How do dogs sense an oncoming seizure? 
One of the questions they're often asked at Support Dogs is how their seizure alert dogs can detect an oncoming epileptic fit.
There is no simple answer to what is a complex issue. Rita Howson, Chief Executive of Support Dogs explains:
"Dogs are very good observers of humans. Dogs know what is going to happen when you pick up their leash; their behaviour indicates this. Their behaviour can also change when they pick up on more subtle cues – maybe a smell or behavioural change in the client that occurs before an oncoming seizure.
Essentially, by careful observation, which might require hours of videotaping, we can hone-in on what that change is, reinforce it, and teach the client and support dog to recognise it. It takes time and needs follow up, but it is entirely possible to achieve up to a 50-minute warning with many dogs."

Support Dogs is now working with researchers at Gent University to improve scientific understanding of the changes that our dogs are responding to, which will lead to a much greater understanding of the condition and our ability to help to improve the lives of those affected by epilepsy.
It costs around £20,000 to provide and train a support dog. Find out how you can help here: https://www.supportdogs.org.uk/
Sheffield Mutual will be sponsoring Support Dog's 'Puppy Parade' and annual graduation ceremony in November.